Sell Gold Bullion The Easy Way
Do you have gold bullion you'd like to turn into quick cash at a fair price? Gold Smart is both professional and knowledgeable, making our team your best allies for turning your unwanted precious metal coins, bullion, bars and ingots into money you can use for investments, bills – anything you might need it for! Want to know what types of gold bullion you can sell for cash? Here are only a few of the types we buy – if you don't see yours here, contact us to discuss your item and we'll help you determine its worth.
The Right Choice for your bullion
Want to know what types of gold bullion you can sell for cash? Here are only a few of the types we buy – if you don't see yours here, contact us to discuss your item and we'll help you determine its worth.
Sell South African Krugerrand Gold Bullion Coins
Minted in South Africa, The Krugerrand is 91.67% pure gold at 22 carats – the perfect piece to sell if you're looking to trade gold coins for cash. With a 32.6 mm diameter and nearly 3 mm thick, it has lots of precious metal value waiting to be unlocked by a savvy seller. This popular coin makes up a large part of the gold coin market, and the main denomination is popular among collectors of gold currency due to its gold content – exactly one troy ounce. Other denominations include 1/2 oz, 1/4 oz and 1/10oz, and the Krugerrand has also been released in limited edition proofs that are sought after by collectors.
Sell New Zealand Mint Gold Kiwi Bullion Coins

Marked with a picture of NZ's most famous flightless bird, it's not hard to see where the New Zealand Gold Kiwi coin gets its name. Available in 1/4 oz, 1/2 oz, and 1 oz denominations, each is made with 24 carat gold. Other designs on this New Zealand gold coin include a map of the country and the Southern Cross constellation on the obverse.
Sell New Zealand Mint Pacific Sovereign Gold Bullion Coins
The Fijian gold Pacific Sovereign is a beautiful gold coin that features a swaying palm tree and a cluster of tropical Plumeria flowers beside the bay. Made in various denominations, the sovereign is minted in a 1 oz denomination and carries the distinction of being legal tender in the nation of Fiji.
Sell Perth Mint Gold Kangaroo and Nugget Bullion Coins

Gold bullion collectors have a lot to love about Australian currency. Minted in Perth, The Australian Gold Kangaroo coin and Australian Gold Nugget coin are available in a wide variety of denominations, including 1/20 oz, 1/10 oz, 1/4 oz, 1/2 oz, 1 oz, 2 oz, 10 oz and 1kg – each made in 24 carat gold. Not only do these coins function as legal tender in Australia, they also change their design year to year. They have legal tender status in Australia and are one of few legal tender bullion gold coins to change their design every year. Another type of gold bullion coin, the Australian Lunar Gold Coin, features similar gold purity and displays images of the Chinese zodiac.
Sell Canadian Maple Gold Bullion Coins

Not to be outdone in the gold bullion department, Canada's Gold Maple Leaf Coin is legal tender for $50 face value within the country, and are made by the Royal Canadian Mint. Coins of this type that were minted between the years of 1979 and 81 feature .999 gold content and 24 carat gold. Denominations available include 1/20 oz, 1/10 oz, 1/4 oz, 1/2 oz and 1 oz.
Sell American Gold Eagle Bullion Coins

With an eagle design that echoes the seal of the United States of America, The American Gold Eagle Gold Coin debuted in 1986 and is backed by a government guarantee to contain exactly the gold weight in troy ounces, as stated on the coin. Available in 1/10 oz, 1/4 oz, 1/2 oz and 1 oz denominations, the gold contained in the coin must legally be sourced in America, making it an unusual piece.
Sell American Gold Buffalo Bullion Coins

Much like other coins, this gold bullion coin is affectionately known among collectors under a shortened name – a "buffalo." The American Buffalo, or gold buffalo, is created out of 24 carat gold and is based off a design found on the US Indian Head nickel. It also has the honour of being the first pure gold coin minted for public consumption. Much like the Canadian Maple Leaf gold coin, the American Buffalo gold coin is legal tender for $50 within the country of its manufacture. Available denominations are 1/10 oz , 1/4 oz 1/2 oz and 1 oz.
Sell Austrian Philharmonic Gold Bullion Coins

Commemorating the orchestra for which it's named, the Austrian Philharmonic Gold Bullion Coin features a musical instrument design, as well as important information like alloy purity, weight, face value in Euros and the year it was minted. Made by PAMP Suisse – an independent refiner of precious metals – it is available in 1/10 oz, 1/4 oz, 1/2 oz and 1 oz denominations. It was the most commonly sold gold coin in the world throughout several points in the 1990s.
Sell Chinese Gold Panda
The official mint of the People's Republic of China turns out the beautiful Chinese Gold Panda coins, decorated with a lounging version of their namesake eating bamboo. The reverse images on the coins change each year, a feature requested of the mint by gold buyers in the early 2000s. These coins are issued in denominations that range from the smallest version of 1/20 troy oz to larger versions weighing in at over 1 troy oz. The design of the coin is also available in silver as the Silver Panda series, also issued by the official mint.
Sell Mexican Peso Gold Bullion Coins

An interesting piece of Mexican history, the centenario was originally minted in 1921 in order to commemorate the hundred year anniversary of the country's independence from Spain. While the face value denotes its worth as 50 pesos, this is for legal purposes only, doesn't function as legal tender and does not accurately reflect the worth of the coin's precious metal weight. Images on the coin include the "Angel of Independence", two famous volcanoes found in Mexico, and the coat of Mexican arms can be found on the back. The design on these coins, much like the Chinese Gold Panda coins, is seen in the silver "Libertad" series of precious metal Mexican coins as well.
Sell MyGold Cast Bars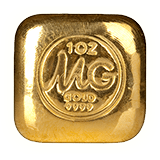 A unique contributor to the precious metal market in New Zealand, MyGold is both an independent and family-owned business specializing in bullion products made in New Zealand. Each bar is handcrafted for beauty and a natural finish, and each batch as been refined and assay-tested to ensure high standards and a superior product. Both gold bullion and silver bullion products from MyGold are available in sizes to everyone – 5oz, 10oz, 20oz, 50g, 100g, 200g, 500g, 1kg or 5kg – and retain their value for selling to companies like Gold Smart for cash.
Sell Gold Cast Bars

At Gold Smart, we buy the vast majority of gold cast bars and gold ingots, regardless of manufacturer, gold purity or weight. These ingots are generally hand-poured and will carry a recognisable maker's mark from a well-known precious metal dealer, such as Tanaka in Japan or Credit Suisse in Switzerland. In terms of purity, bullion can range from 22 carat (91.6% fine gold) to 24 carat (99.99% fine gold). Generally these gold bars will come in standard weights by their country of origin, including grams, troy ounces, bahts and more. No matter where it was made or how much it weighs, you can always get cash for your gold bars with Gold Smart!
Sell Gold Minted Bars

Gold minted bars are, unsurprisingly, usually made at a mint for consistency and control of the finished product. They're typically available in several sizes to suit different budgets and collectors; these can range between 5 grams to 10 ounces and above. Popular minting facilities include PAMP or Credit Suisse in Switzerland, as well as the Perth Mint in Australia. Often, these minted bars will come sealed in air-tight, tamper-proof packaging with serial numbers for easy tracking and checking.